Credit Card Reader Writer
MSR909 Reader Writer For Magnetic Stripe Credit Cards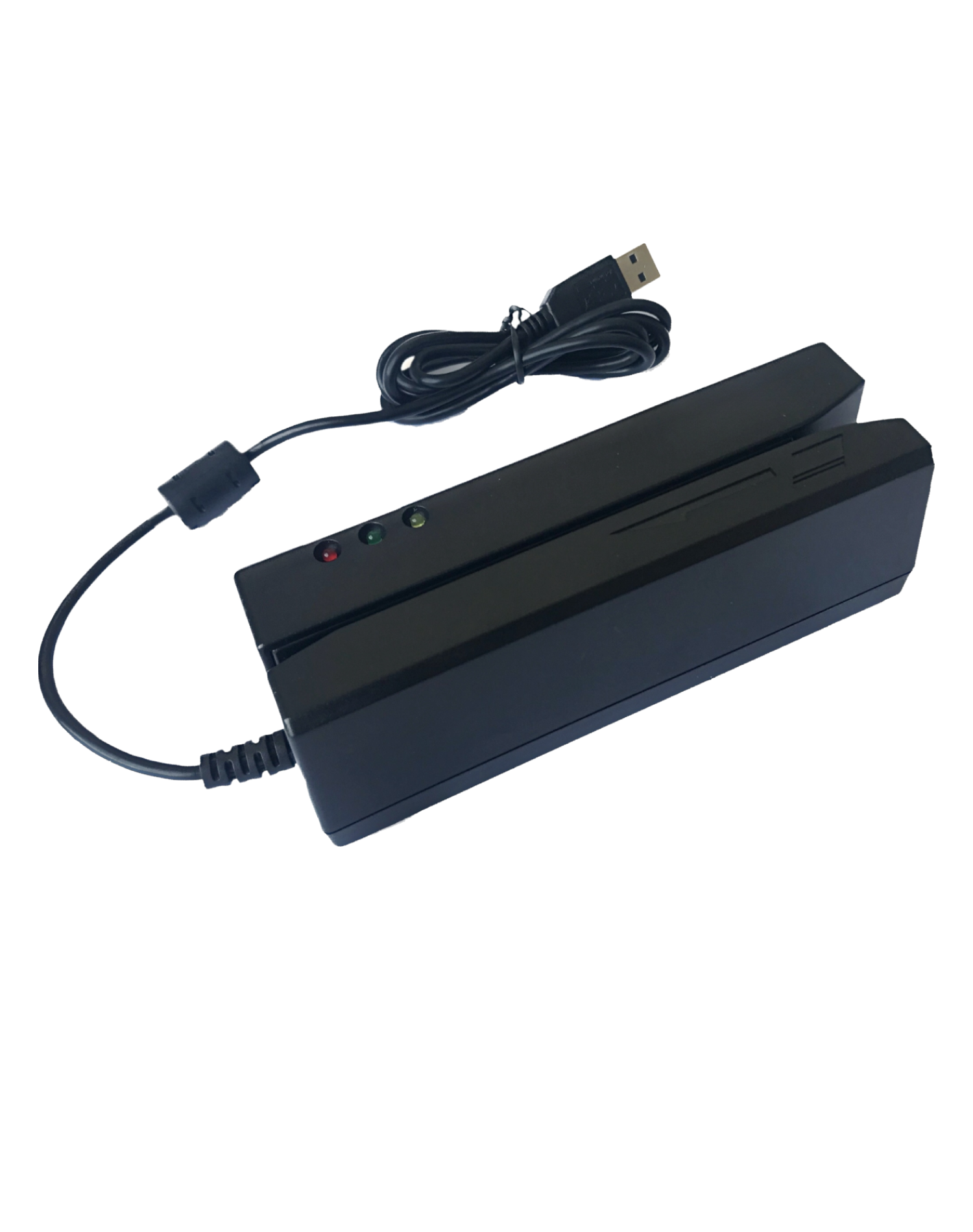 Light indicators of data reading & writing
Read & Write magnetic stripes
Efficiently rewrite track 1 2 & 3 of credit cards
USB interface. Easy plug and play
Free Software
Download available to read & write tracks
Write 3 tracks
Read & Write track 1 2 & 3 of credit cards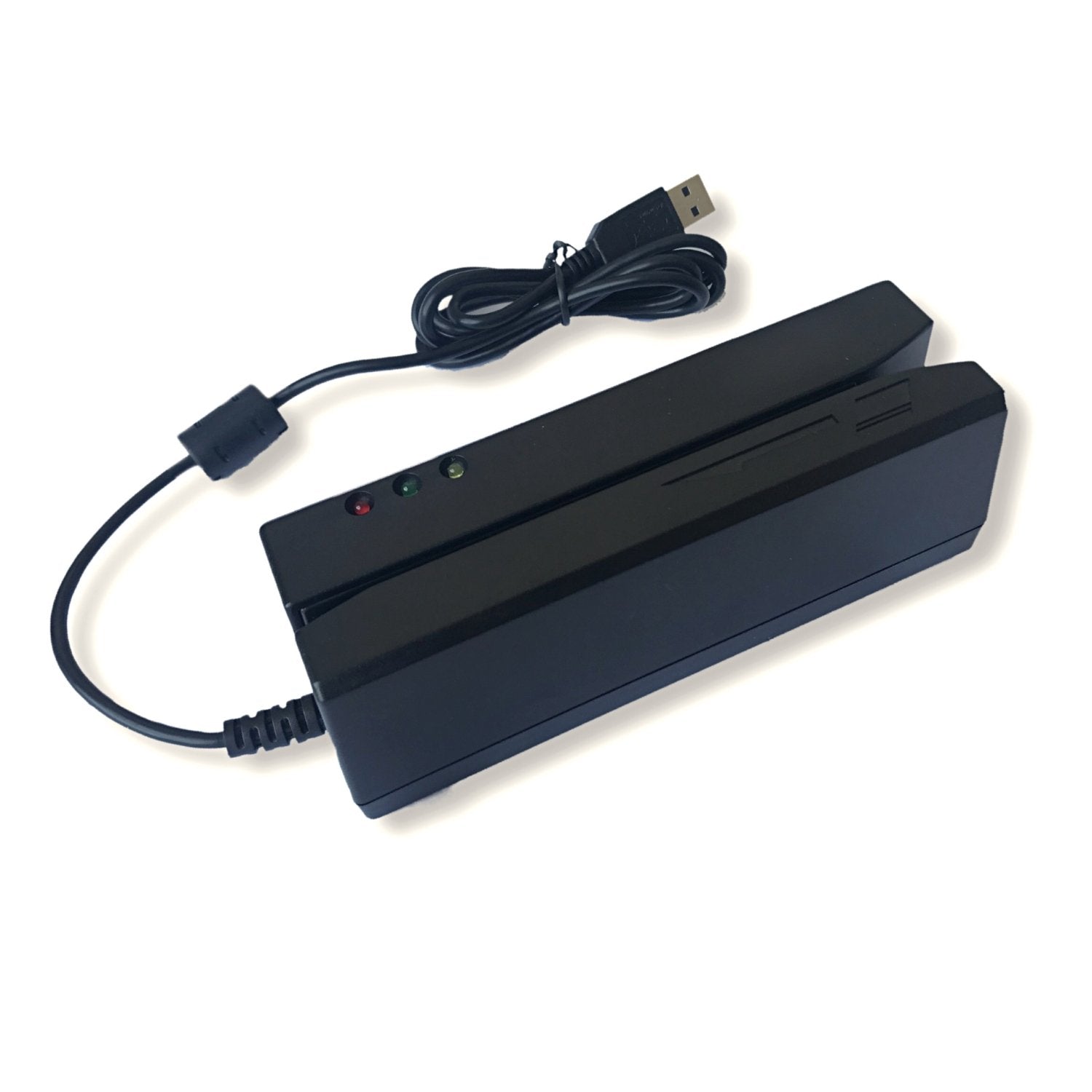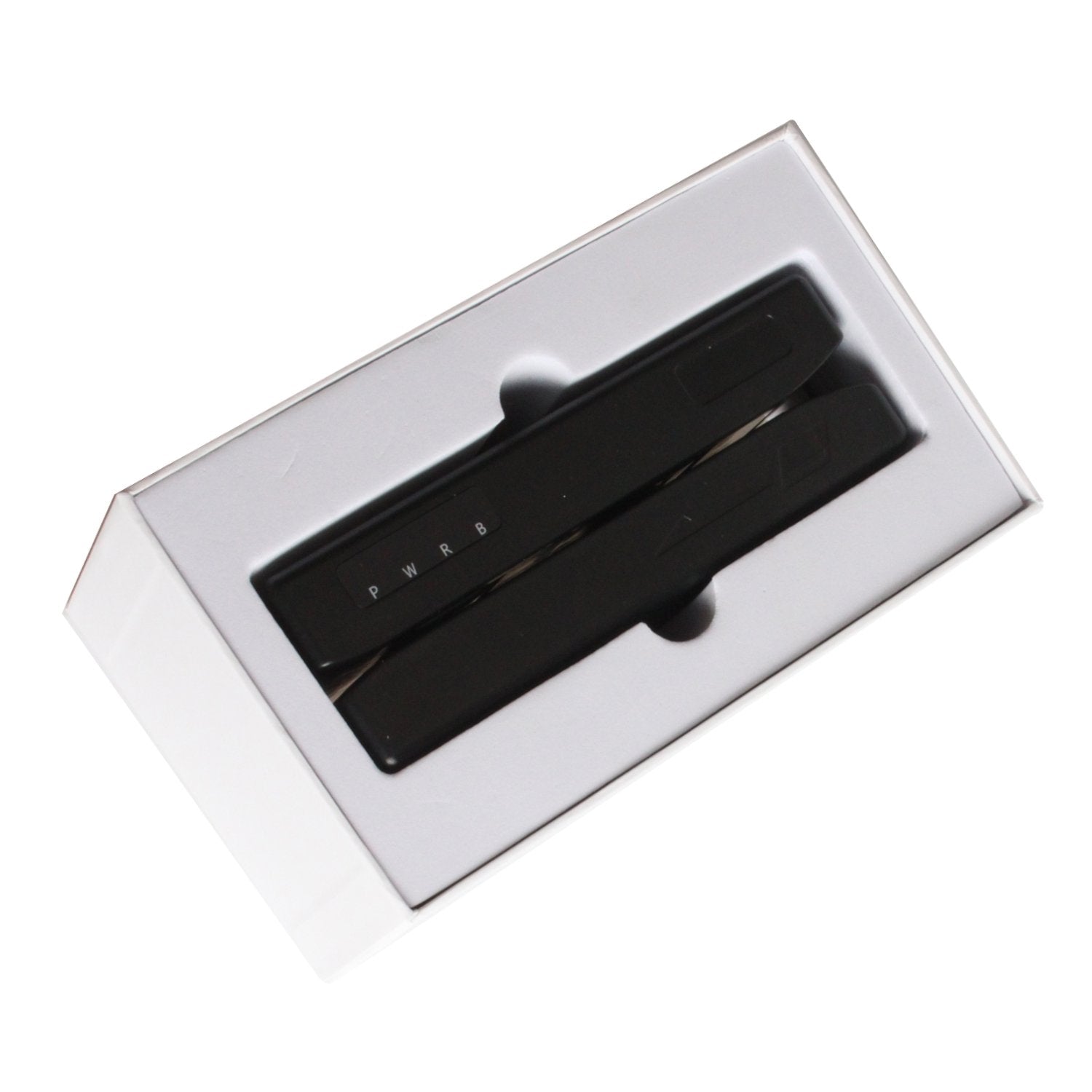 MSR 909 Reader Writer For Credit Cards
The MSR 909 Credit Card Reader Writer is an upgraded version of the MSR605, MSR606 and MSRx6. It has the same function of reading and writing magnetic stripes while also being more lightweight and USB powered.
Compliant Systems: Windows 98, 2000, ME, XP, Vista, 7, and 8 (32-bit and 64-bit)

Interface: Standard USB (can customize to RS232 Interface)

Standard: ISO7811/1~6

Power supply: 5V

Operating Indicator: LED lights

Size: 150mm(L)*50mm(W)*52mm(H) [5.91in(L)*1.97in(W)*2.05in(H)]

Weight: 342g [12.06oz]

Package Size: 180mm(L)*100mm(W)*80mm(H) [7.09in(L)*3.94in(W)*3.15in(H)]

Safety Rating: CE, FCC, ROHS
1 MSR 909 Reader Writer For Credit Cards

1 software CD of reader writer software designed for MSR909

1 cleaning card

20 standard blank cards with magnetic stripe
Please avoid using excessive mechanical force or exposing the device to excessive vibration.

Avoid using the device for long periods of time in acidic environments.

Prevent water or other liquids from entering the product.
Duties and import taxes are all taken care of. You don't pay extra after the purchase.
Enjoy 10% off as new customers. Use NEW10 at the checkout now!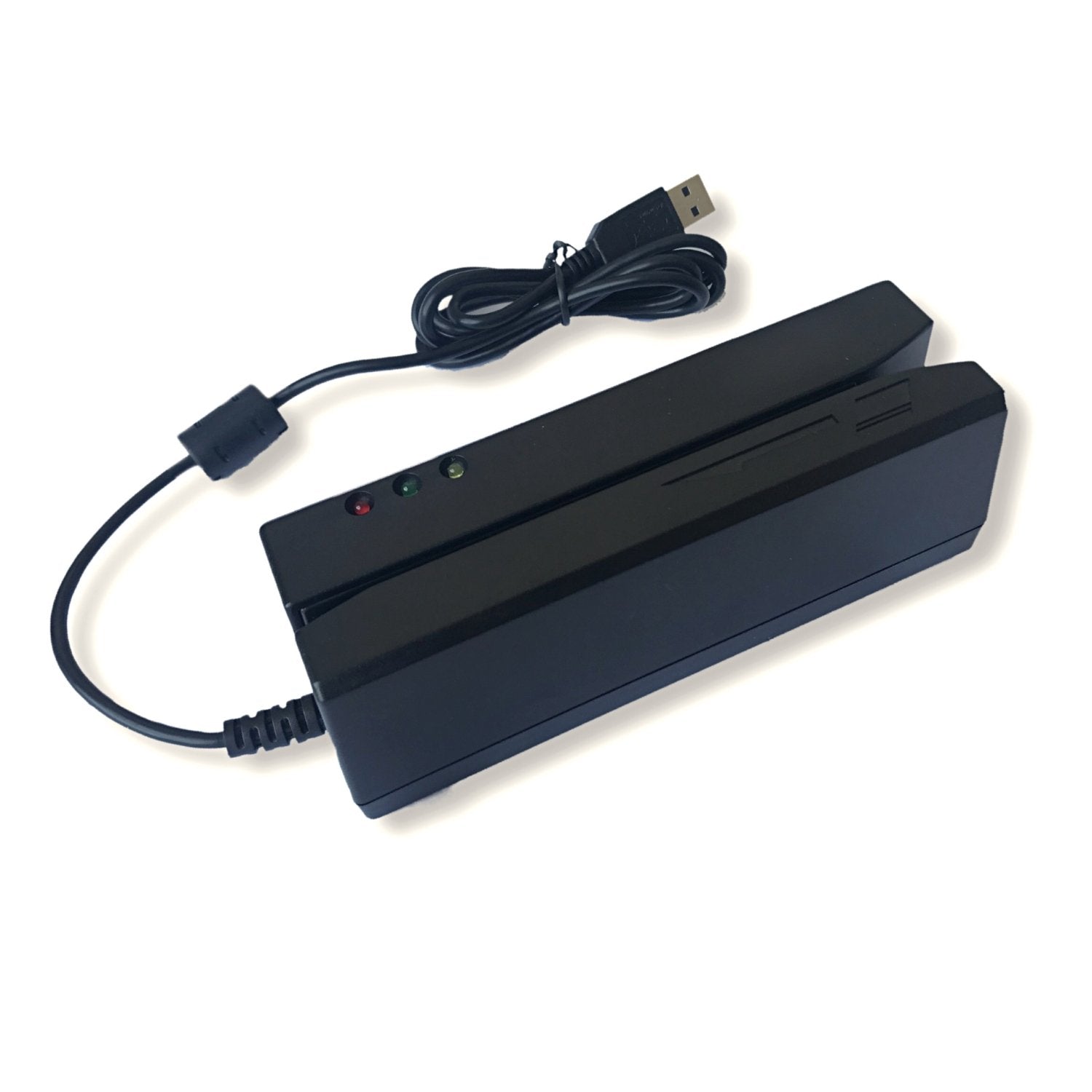 This product is rated 5.0 of 5.0 stars.
It has received 1 review.
Works as I expected.
I wanted to duplicate my credit card for my sons. Used it following tutorials from YouTube and the software is easy to play with. The team is patient in answering some of my confusions with the software. Smooth play in copying my cards in the end.
MSR 909 Reader Writer For Credit Cards
Read & Write Track 1, 2, 3 of Credit Cards. Shockingly Fast For Encoding Store Loyalty Cards, Gift Cards, Magnetic Cards.
Card Encoder
Read & Rewrite track 1, 2 & 3 of credit cards

Write all track combinations in 75/210 bpi data density
Built-in Battery. USB Powered.
No driver setup required. No heavy chunk of AC adapter.
Read & Write Format
Support ISO, AAMVA, DMV, raw data and user define format
HiCo and LoCo
Support both HiCo and LoCo cards (300~4000 oe)
Free Reader Writer Software
Complimentary software download upon purchase
FREE Shipping to US, Canada, Mexico, Turkey & Australia
You may still be wondering?
Can it rewrite track 1, 2, 3 of magnetic stripes?

Yes. MSR909 can read and write track 1, 2, 3 of credit cards.
Can I move the magnetic data from credit card A to credit card B (not IC data), and then use credit card B to make purchases in a magnetic pay environment?

Yes, it's possible. For example, it's possible to transfer the data from a supermarket club card to a Visa card, and it takes only two seconds. The transfer process is so fast that it's almost shocking. I didn't try to make any purchases, but I assume it's possible since the transferred information will appear when you swipe the card again.
Can it program loyalty cards or gift cards?

MSR909 can duplicate what is on a magnetic stripe. I tested it with a Visa card, store loyalty program card, and gift cards, and was able to copy them with no issues.
No it doesn't. MSR909 work only with Windows.
Can it encode a card with a chip?

No, it can't. MSR909 only works with the standard magnetic stripe cards.
Does it read the cards' PIN as well?

The MSR909 can read the tracks on a magnetic stripe. But the PIN is encrypted and will not be displayed in a clear manner, unless it is a test card for software development purposes. In that case, you will have access to the PIN, but it will not be a real card. Copying real cards is illegal.
It can be charged by USB power once you plug in a USB port. It doesn't need external power supply.
Where can I get the FREE software download?

The link to download the demo software will be emailed to you when MSR909 is purchased and delivered. Whatsapp us if you didn't find the email.
I need a batch of readers for a project. Can I customize the reader for specific needs of my clients?

Yes, we can customize our readers to meet your specific needs. Our engineers have over 10 years of experience serving tech solution providers and can adjust software configuration, hardware components, the SDK interface, and more based on your requests.

Just hit that chat button and let us know what you're looking for. We'll be in touch to get all the details and make it happen for you!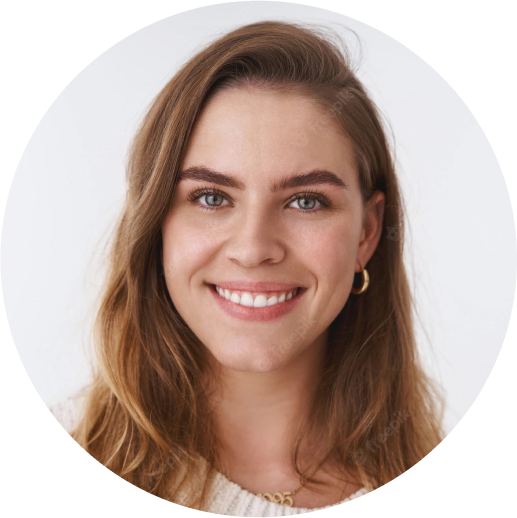 Got a question or a special request? Click that chat button.
Our tech whiz Jayden who has 10+ years of experience will help you in a jiffy!